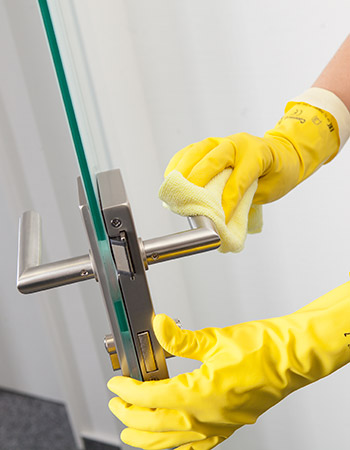 Hygiene & disinfection management
Top priority for life and health
Hygiene­ and disinfection management
Hygiene and disinfection management have top priority in hospitals, as well as nursing and care institutions. In the food industry, it is important that the HACCP principles are followed up.
Insufficient and superficial cleaning of public baths can pose a risk for the health of the guests. Professional cleaning and disinfection of schools and day care centres is an important part of preventing the spread of contagious stomach and intestinal viruses.
Extensive knowledge of disinfection and top-qualified personnel are key to implement the right measures for the optimum hygiene for all areas. Because of this, our staff is always up-to-date on the most recent technological developments and have extensive knowledge of applicable laws and regulations.
If so desired, we can prepare hygiene and disinfection plans. We ensure the optimum handling of waste and product residue, and ensure that regulatory requirements are complied with in accordance with customer needs and requirements.
In order for you to remain absolutely confident in the efficiency of our work, we document the results of our disinfection and hygiene measures using regular direct contact tests.